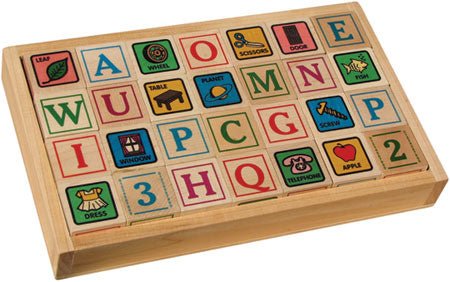 Wooden Montgomery Classics - ABC Blocks with Tray
Regular price $85.00 Sale
28 solid blocks nest comfortably in a sturdy tray.
Our wooden ABC Blocks are a fresh interpretation of a classic toy. 28 solid blocks feature letters, numbers, simple pictures, and complete words colorfully printed on all 6 sides.
Each block measures approximately 1-3/4" square. Tray measures approximately 13-7/8" wide by 8-3/4" tall by 1-3/4" deep with 3/4" thick sides.
All are crafted from locally sourced, responsibly harvested maple hardwood.
Made in the US.
Ages 1+